What is 5G? How will car safety and autonomous driving change with the 5G commercialization and 5G enhancement? I also explain V2X, Cellular-V2X, and DSRC, which are communication standards for vehicle safety support. I clear these buzzword in this blog post.
I will mainly discuss 5G and wireless communication systems for vehicle traffic safety. How will 5G Network be used for car communications? This blog post will clearly about V2X related buzzwords.
What is V2X? What is V2P, V2V, V2I and V2N?
V2X communications and their solutions enable communication between vehicles and between vehicles and everything. The goal of V2X is to improve traffic safety, increase efficient traffic flow, reduce environmental impact and provide information and communications in new traffic.
What is V2X? All V2X communication with the vehicle is real-time and reliable communication that enables safety and mobility applications. Vehicle traffic and transportation are being redefined by providing practical information and communication in vehicle traffic and transportation through V2X communication.
V2X represents a Vehicle-to-everything connection. It is a multipoint network that enables information to be exchanged between the vehicle and the outside of the vehicle. Vehicle connections are categorized into road infrastructure (traffic lights, road signs, parking lots, etc.), pedestrians, other vehicles, and networks. It is defined in 3GPP as follows depending on the type of connection destination.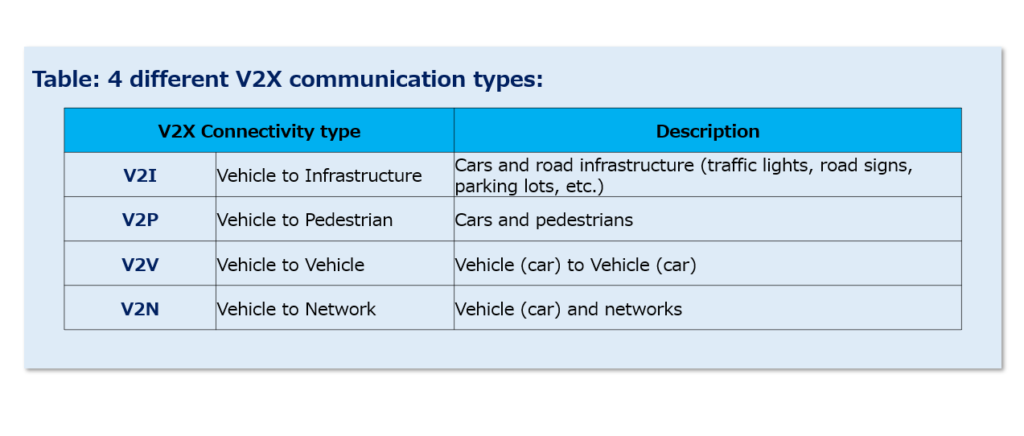 What is Cellular V2X (C-V2X)?
Cellular V2X (C-V2X) is a V2X that uses mobile communication networks such as Cellular LTE and 5G. C-V2X is basically a communication that is supposed to directly communicate with one vehicle and another vehicles, road infrastructure, equipment owned by pedestrians.
C-V2X is an improvement of LTE D2D (Device to Device), a terminal-to-terminal communication technology standardized by LTE Advanced (Release 12 of 3GPP), and is optimized for driving a car. The following video is a video released by Qualcomm, which gives an overview of C-V2X. The concept and outline of C-V2X are summarized in an easy-to-understand manner in below video.
C-V2X Architecture
PC5 and Uu Interface
Cellular-V2X has two types of Air Interface, PC5 and Uu. PC5 is a direct communication between devices. Direct wireless communication of PC5 is called SideLink. Uu Interface is the communication between the car and the network. The differences between PC5 and Uu and their purposes are summarized below.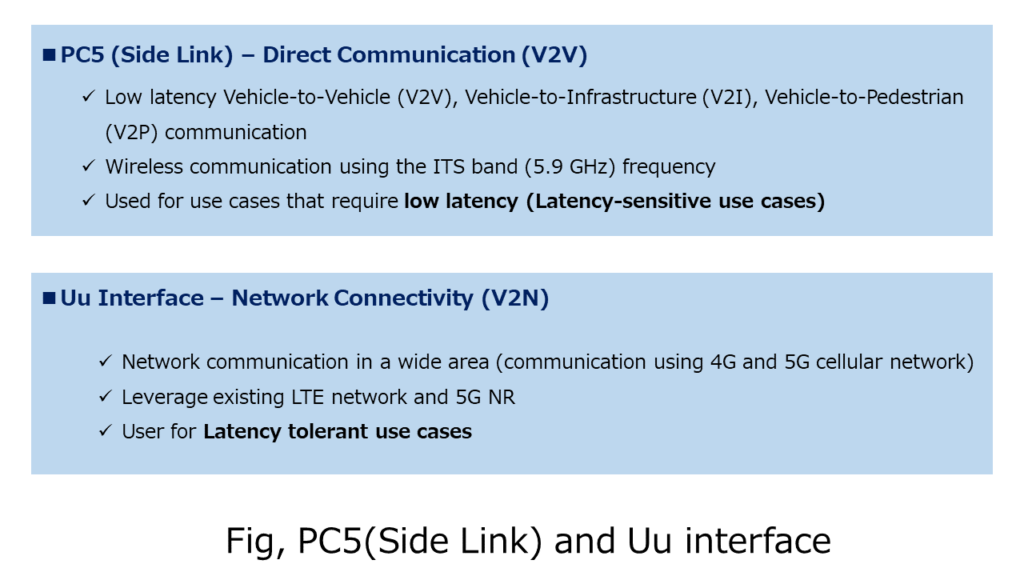 PC5 (SideLink) is a direct communication between devices. This SideLink plays an important role in autonomous driving of automobiles. The figure below illustrates PC5 and Uu interface. It is referenced from the official materials of Quakcomm.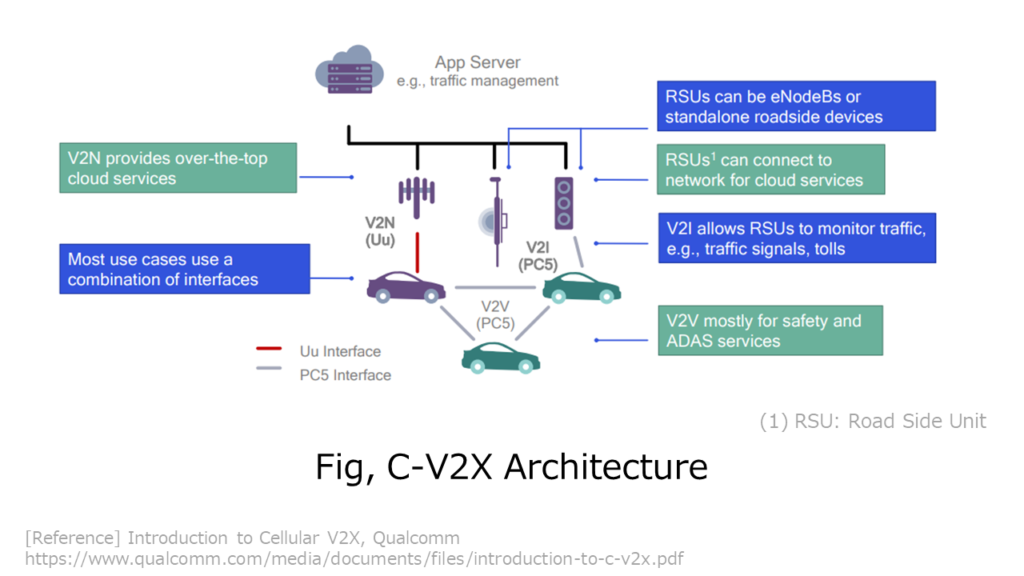 Introduction to Cellular V2X, Qualcomm [PDF file]
Transmission Mode 3 and Mode 4
C-V2X supports both In-Coverage and Out-of-Coverage of cellular wireless networks.
Transmission Mode 3 (TM3) is the communication mode when the vehicle is within the coverage of the cellular wireless network (In-Coverage). This communication mode assumes that the wireless network provides communication scheduling resources to the vehicle.
Transmission Mode 4 (TM4) is defined as the case where the vehicle autonomously selects resources based on the detection of the wireless communication environment. In this mode the wireless network is not involved in the communication. In other words, it is a communication mode that also supports when the car is out of the coverage of the cellular wireless network (Out-of-Coverage).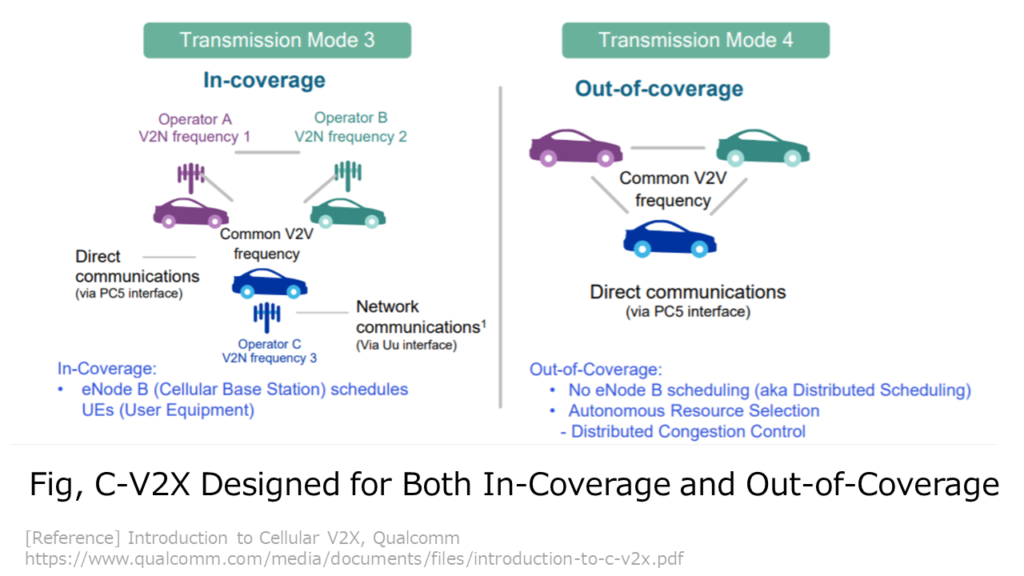 5GAA (5G Automotive Association)
An organization called 5GAA (5G Automotive Association) is promoting C-V2X with the aim of introducing 5G technology into vehicles and developing various services and solutions.
5GAA aims to develop end-to-end solutions for future mobility and transportation by a global cross-industry organization of companies such as automotive, technology and telecommunications. 5GAA uses Cellular communication (LTE and 5G) as a vehicle communication platform.
5GAA (5G Automotive Association) [Website]
3GPP standardization of C-V2X
Timeline for Deployment for C-V2X (V2V/V2I)
C-V2X is standardized by 3GPP. 3GPP is an international standardization organization that standardizes communication standards for mobile phones such as 3G and LTE. C-V2X has also been standardized by 3GPP and has become one of the candidates for automobile communication standards.
International standardization organization 3GPP released the initial specifications of C-V2X in September 2016. C-V2X by 4G LTE has been standardized as a specification of Release-14 announced by 3GPP in March 2017. Since then, standardization and enhancement of 5G C-V2X have been promoted.
The figure below refers to the White Paper published by 5GAA. This is a compilation of the 3GPP standardized Release and the Time-line for commercialization of C-V2X. This time-line aiming for commercialization at 5.9 GHz in 2020.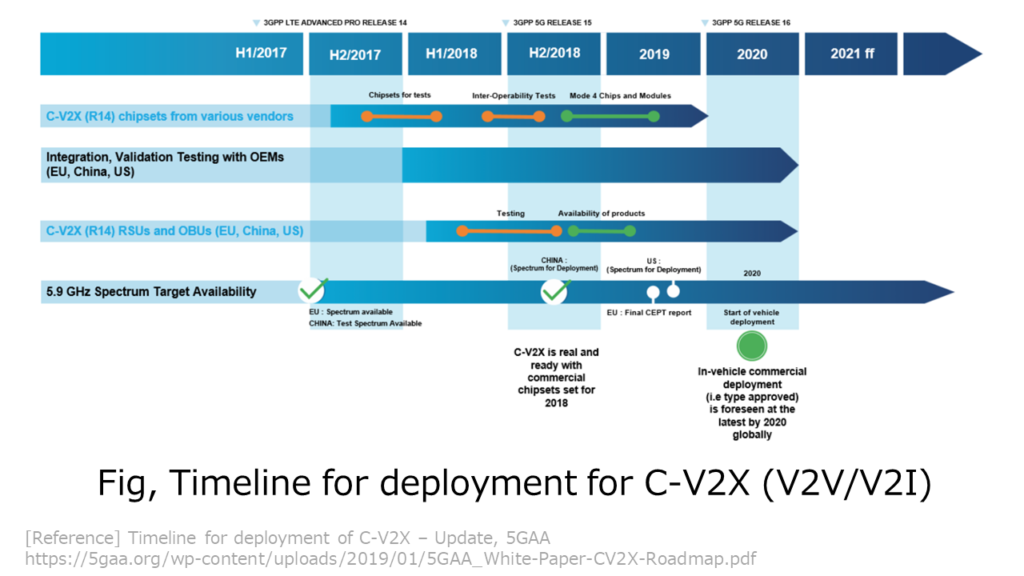 C-V2X: Evolution to 5G maintains backward compatibility
It is very important to be able to communicate C-V2X between vehicles that implement different 3GPP Release devices. Backward compatibility between 3GPP Release, which is the Deployment concept of 3GPP networks, is also available in C-V2X.
The figure below shows the enhancement of C-V2X in the release of 3GPP mobile communication technology. C-V2X also shows that there is backward compatibility between different releases of 3GPP.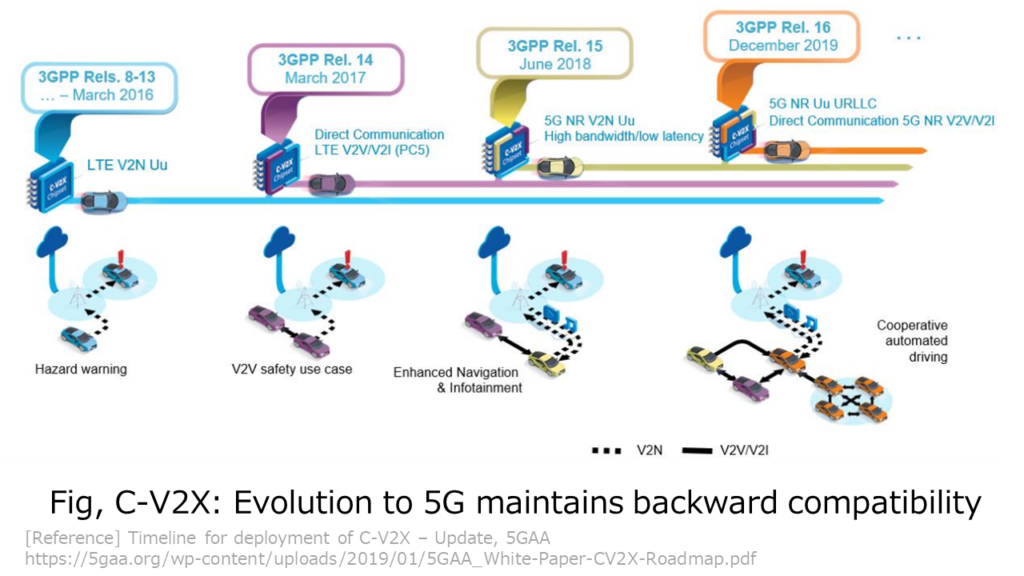 Cellular LTE-V2X and NR-V2X
C-V2X (Cellular V2X), which is part of Release-14 and Release-15 of the 3GPP standardization material release, is known as LTE-V2X. With Release-16, the release of 3GPP standardization materials, specifications for 5G-compatible NR-V2X have been examined and completed in December 2019. Release-17 will also be examined for enhanced specifications of NR-V2X.
In 5GAA, NR-V2X is positioned as an improvement technology that supports autonomous driving, and LTE-V2X is defined as complementing and coexisting. In addition, the 5G Automotive Association (5GAA: 5G Automotive Association) is promoting the Celler-V2X. 5GAA promotes the cellular LTE-V2X and the cellular NR-V2X standard.
5G: From Concept to Commercialization and What's Next, Qualcomm, [PDF file]
Please refer to the following articles for details on 3GPP, an international standardization group.
What is DSRC (Dedicated Short Range Communications)?
DSRC (Dedicated Short-Range Communications) is a wireless communication method that performs two-way communication in a narrow range. DSRC is a wireless communication technology that uses the IEEE (Institute of Electrical and Electronics Engineers) Wi-Fi standard 802.11p.
In Japan, it is a wireless communication used for wireless in the 5.8Ghz band. Two-way communication between the DSRC Road-side Unit (RSU) installed on the highway and the DSRC On-Board Unit (OBU) enables traffic jams, accidents, merging, etc. on the road every moment. It provides changing information in real time.
Which will be the mainstream technology, C-V2X or DSRC?
DSRC has a history of more than 20 years and is technically reliable. DSRC also receive government support.
On the other hand, C-V2X is a new technology. Compared to DSRC, C-V2X has a clear technical advantage. C-V2X is expected to become even more dominant under the influence of 3GPP, the cellular ecosystem and economies of scale.
Summary
What is 5G? How will car safety and autonomous driving change with the spread of 5G? This blog post explained the communication standards V2X, Cellular-V2X, and DSRC for car safety support. I summarized C-V2X in detail because it is related to 5G.
Please refer to the following article for an overview of the features of 5G, such as high speed, large capacity, low latency, and other connections.